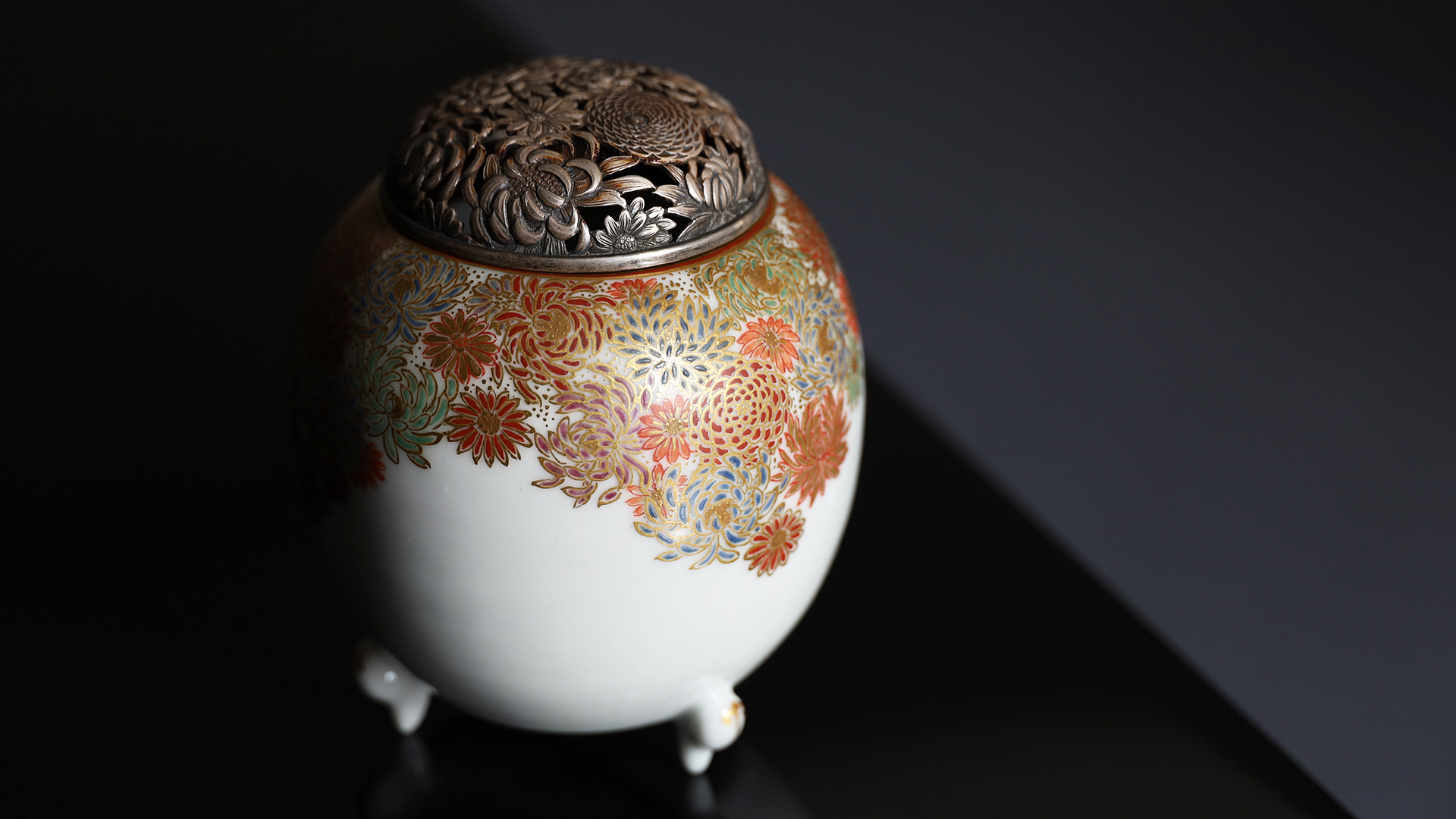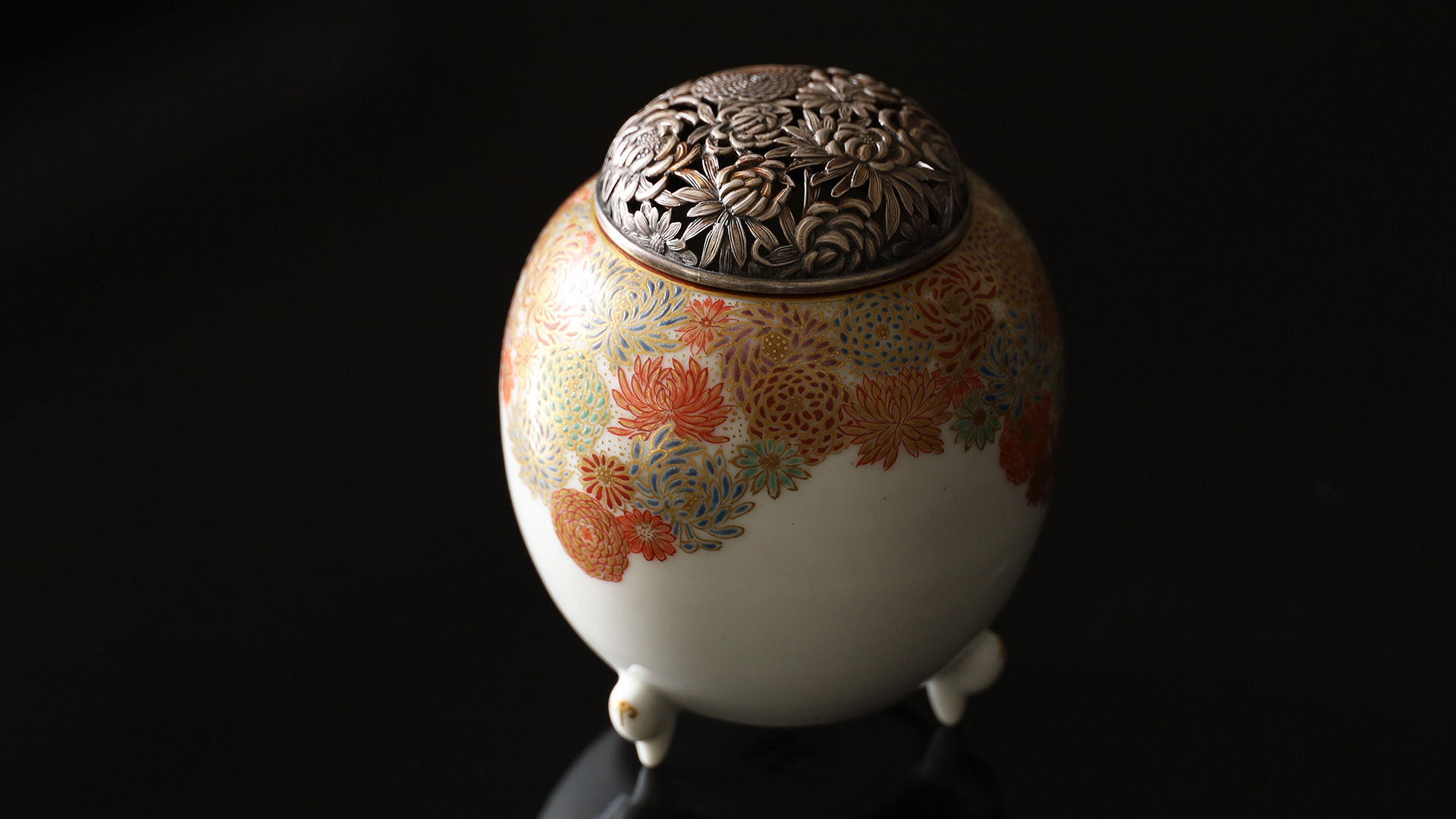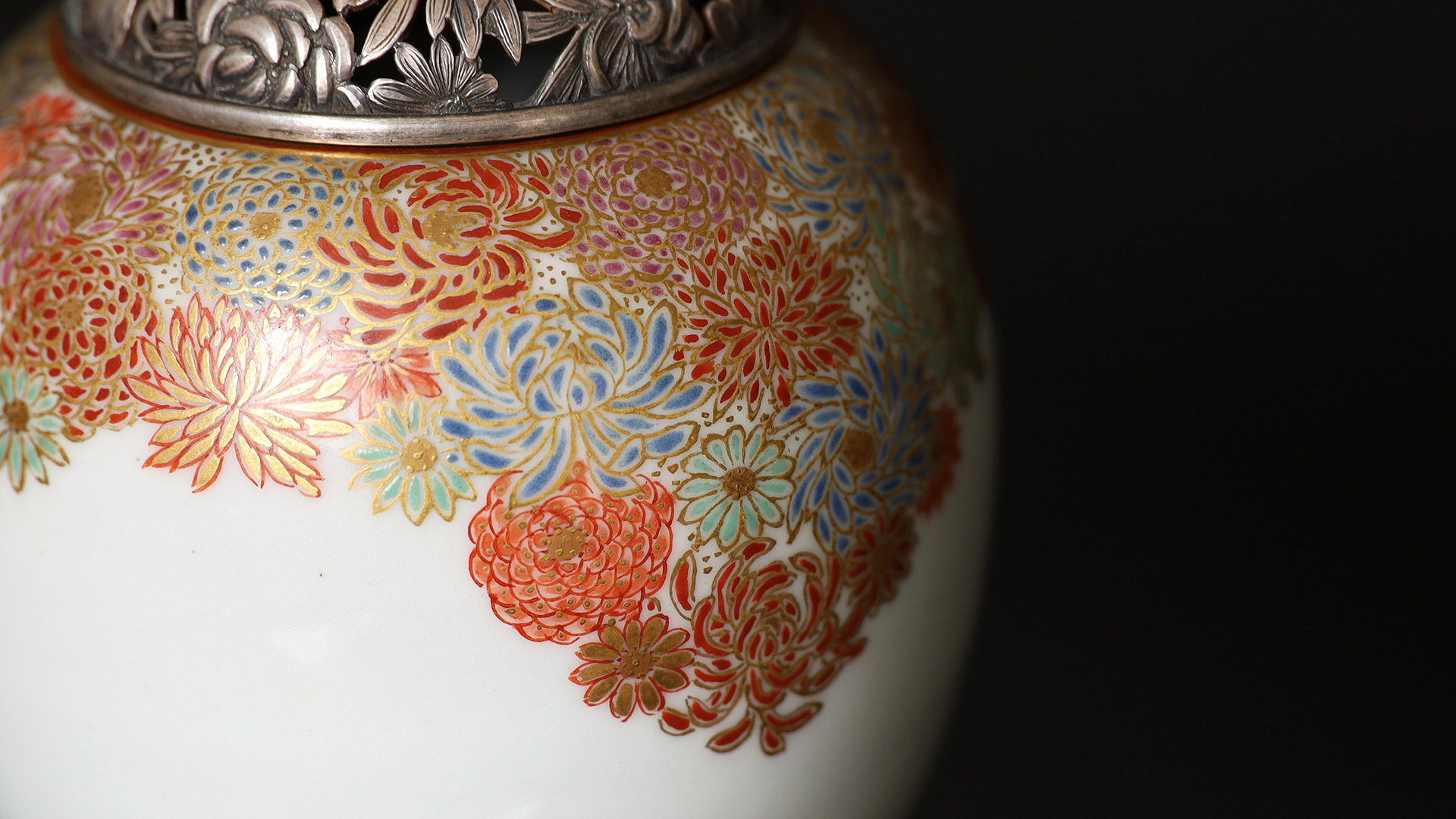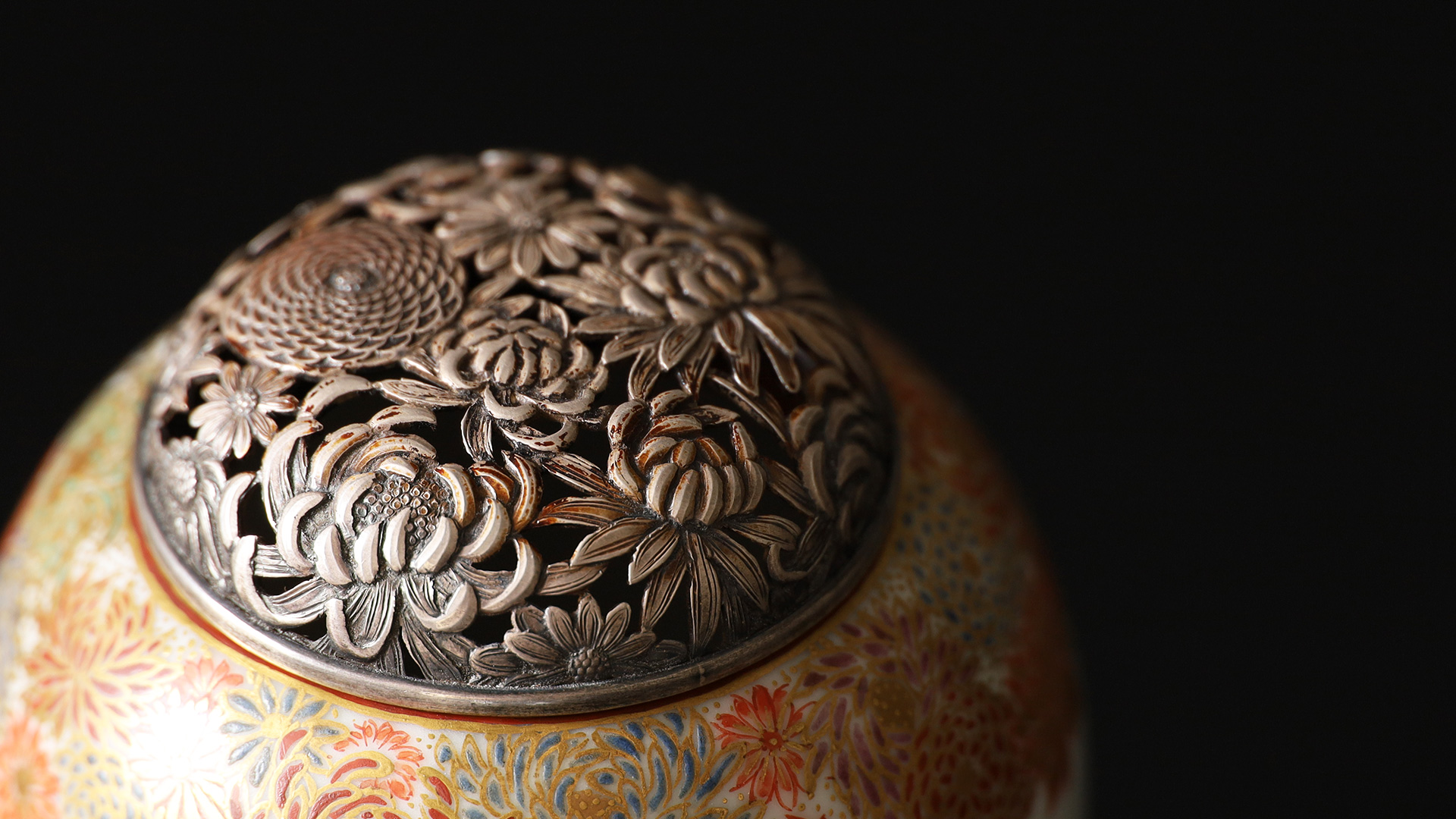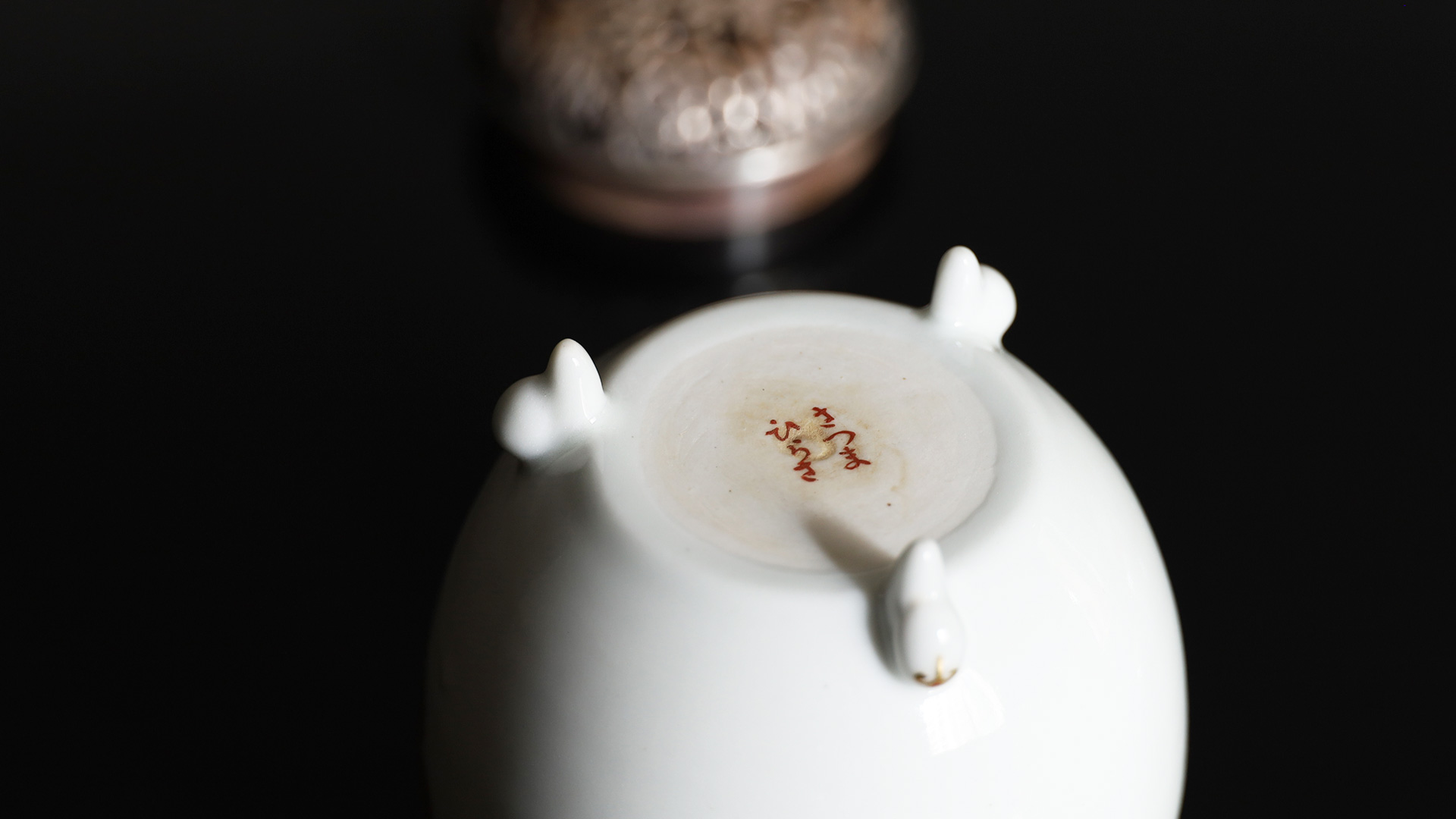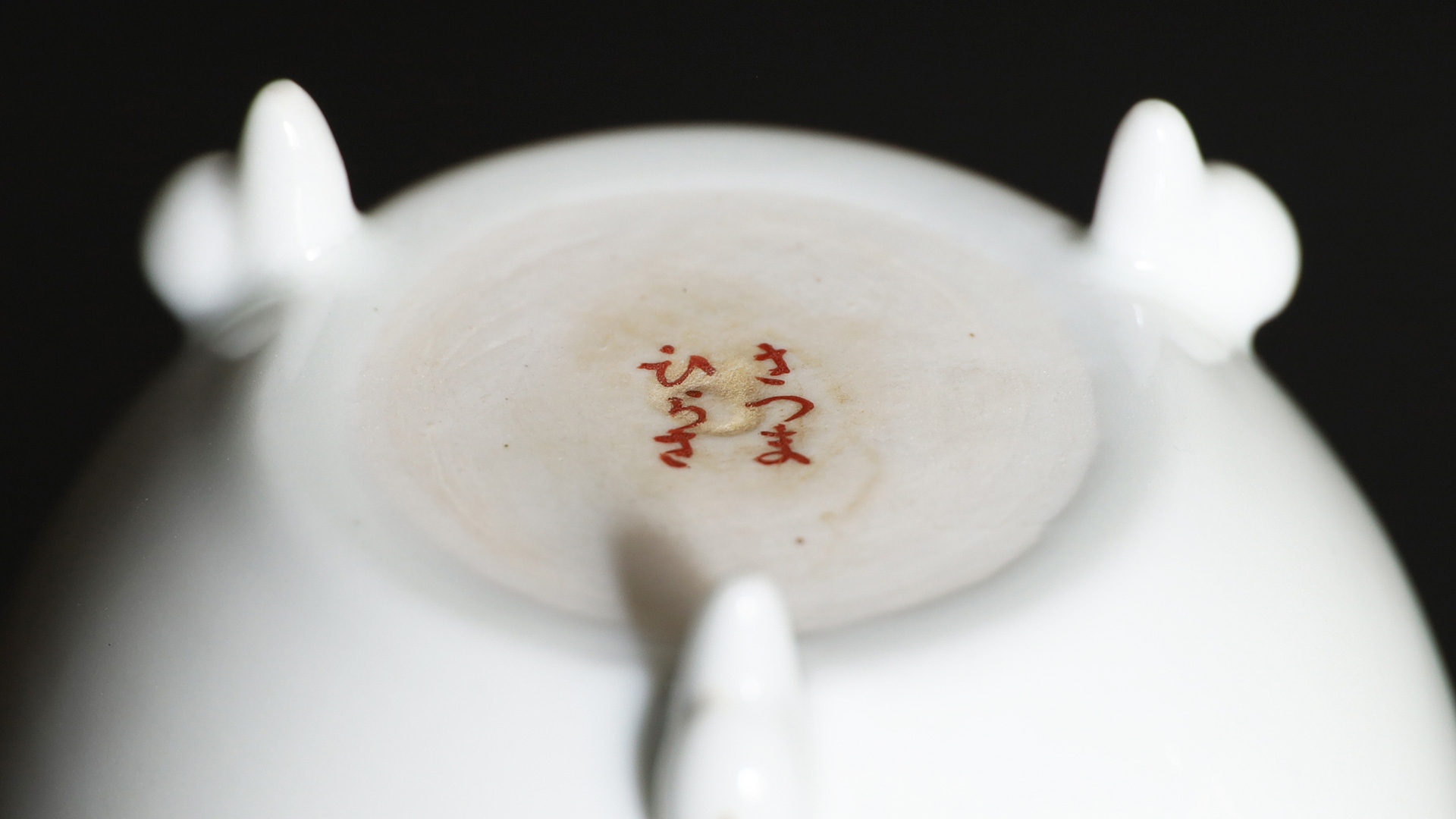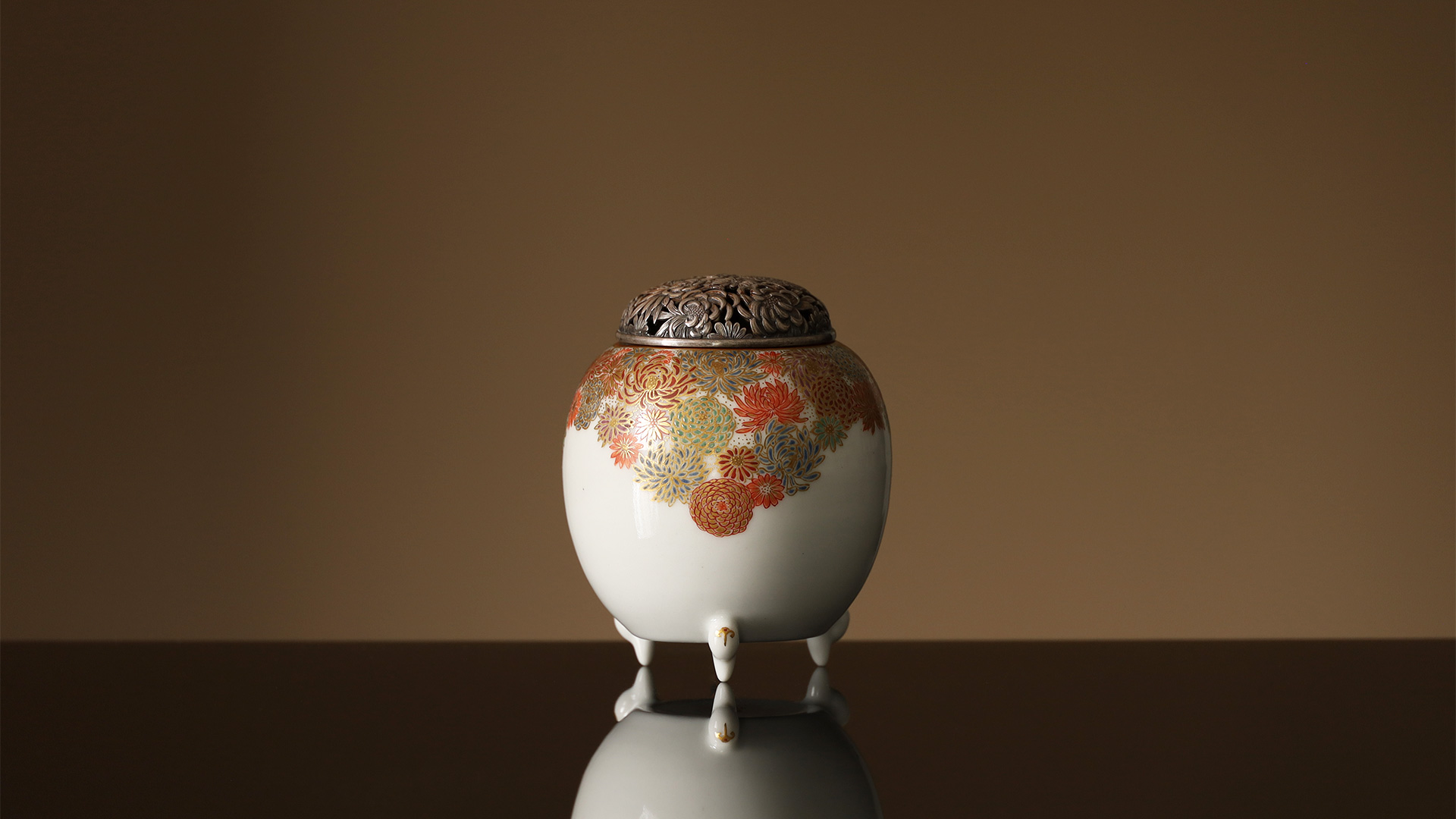 Hirasa Incense Burner with Design of Chrysanthemum(Edo Period)
Sold Out
It is the rare work of hirasa ware that exhibits a gorgeous, graceful and dignified appearance. A noble chrysanthemum design is intricately painted on the soft base, and you can feel a modest dignity by making use of the blank space. The same chrysanthemum design is attached to the silver hoya from the edo period, and the goodness of the origin is oozing out.
Period

Edo Period
19th century
Weight

133g
Body Diameter

7.3cm
Top Diameter

4.7cm
Height

7.3cm
Description

Silver Hoya
Paulonia Box
Condition

Excellent Condition

It meets the requirements of sophisticated and rigorous modeling, beautiful painting, excellent condition and first class work.
---
Hirasa Ware
Hirasa ware is porcelain fired in Amatatsu-cho, Satsumasendai City, Kagoshima Prefecture. In 1776, Giemon Imai opened the wakimoto kiln, but after about two years it was closed due to financial difficulties. Later, in 1786(Tenmei 6), Danemon Ijichi called a potter from hizen under the patronage of the feudal lord Hisatsura Hongo and opened the hongo kiln in earnest. This area was close enough to transport amakusa porcelain stone, which was the raw material, and the convenient location facing sendai bay was in place for shipping products. After the 18th century, when amakusa porcelain stone was distributed as a raw material for porcelain, porcelain kilns were born all over Kyushu. The purpose of establishing porcelain kiln in satsuma province was to suppress the influx of hizen porcelain and promote industrial development. Hirasa ware uses amakusa porcelain stone, so the base is white and resembles hizen porcelain. In 1810(Bunka 7), hirasa large kiln was opened. In 1846(Koka 3), an overglaze kiln was added, and in 1848(Kaei 1), a new kiln was added. The business got on track and expanded sales channels not only within the domain, but also to Amami Oshima and the Ryukyu area, prospering. In 1861(Bunkyu 1), learned the preparation method of gosu from Owari-ya Jozo and others in Kyoto, and in 1865 (Keio 1), Nagayo pottery artist Sojuro Aoki introduced the technique of hirasa sansai. In 1867(Keio 3), it is said that he obtained the cooperation of the French trader Condo de Montblanc. At the end of the Tokugawa shogunate, the road to overseas exports was opened, but in the first year of the Meiji era, many of the works transported to Nagasaki for export were destroyed by fire. In 1871(Meiji 4), it lost the patronage of the Hongo clan due to the abolition of feudal domains and establishment of prefectures. In 1875(Meiji 8), the large kiln was rebuilt, but with the influx of hizen porcelain, it gradually declined.In 1941, Kanbe Mukai, who was celebrated as a master craftsman, passed away, marking the end of hirasa ware.