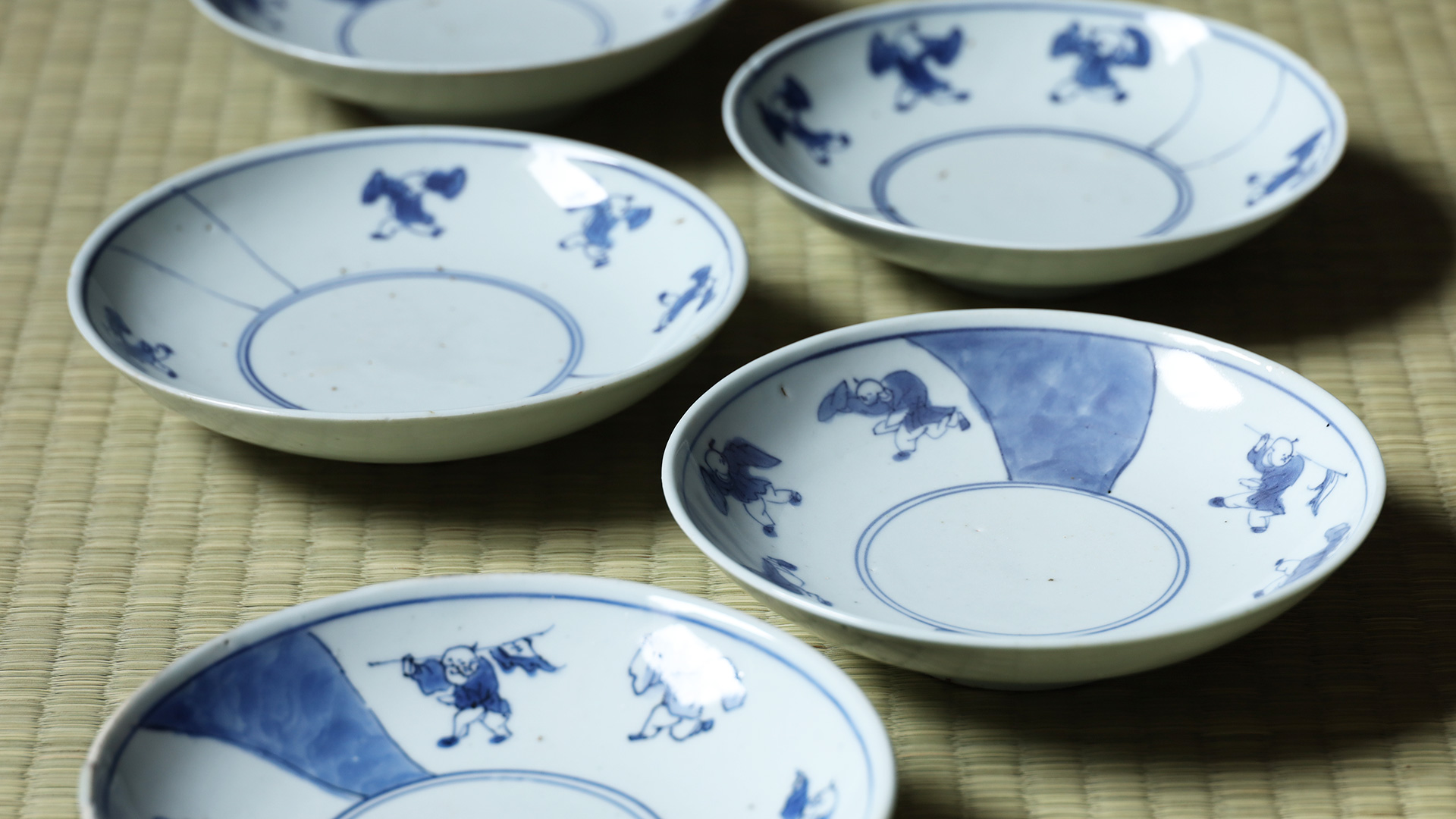 Kosometsuke Dish with Design of Chinese Boys(5 Pieces / Ming Dynasty)
1,200,000Yen(Tax Included)
It is the thick kosometsuke that combines two types of design. There is the item written on the box of this kind of work as a "Coin Dish", and the design on old coins has the meaning of amulet in china, and the characters and design written on it represent auspiciousness. The chinese boys, which happily plays and dances, contains the wish for the prosperity of the family and descendants.
Period

Ming Dynasty
Early 17th century
Weight

About 361g(1 Piece)
Diameter

About 17.7cm
Height

About 4.6cm
Bottom Diameter

About 7.0cm
Description

Paulonia Box(5 Tiered Box)
Condition

Excellent Condition(There are some holes at the edge)
There is a kiln scratch at the bottom

The base , blue and white coloring, and baked are ideal, and they are in excellent condition.

---
Kosometsuke
Kosometsuke refers to the blue and white(sometsuke)porcelain that were fired at the jingdezhen kiln in china, mainly during the late ming dynasty's tianqi era(1621-27). These works were made especially for japan and many of them remain in the country. In contrast to the qing dynasty's blue and white porcelains, known as shin-watari(new-watari), a unique group belonging to the old style ko-watari(old-watari)blue and white porcelains are now independently referred to as "Kosometsuke". These porcelains can be broadly divided into tea utensils ordered by master of tea ceremony and everyday items. The kosometsuke of tea utensils, which were popular among the japanese, have a thick and heavy overall appearance, possibly due to the use of a thick clay base. At the end of the ming dynasty, there was a trend among japanese master of tea ceremony to order and fire unique tea utensils, with each master of tea ceremony ordering their preferred tools. Many kosometsuke works have glaze peeling off due to differences in the shrinkage rates of the clay and glaze, exposing the inner clay. This phenomenon, which resembles the appearance of being eaten by worms, is called "Mushikui(worm eaten)". One characteristic is that mushikui(some holes)can often be found in areas where the glaze is thinly applied, such as the rim or angular parts. While this might be considered a flaw in ordinary porcelains, master of tea ceremony found elegance in this natural phenomenon and appreciated the rough taste, valuing it as an aesthetic effect.
---
Karako(Chinese Boy)
Karako is a child with chinese hair and chinese clothes. It is believed that karako design was born out of the desire for the prosperity of the family and descendants.