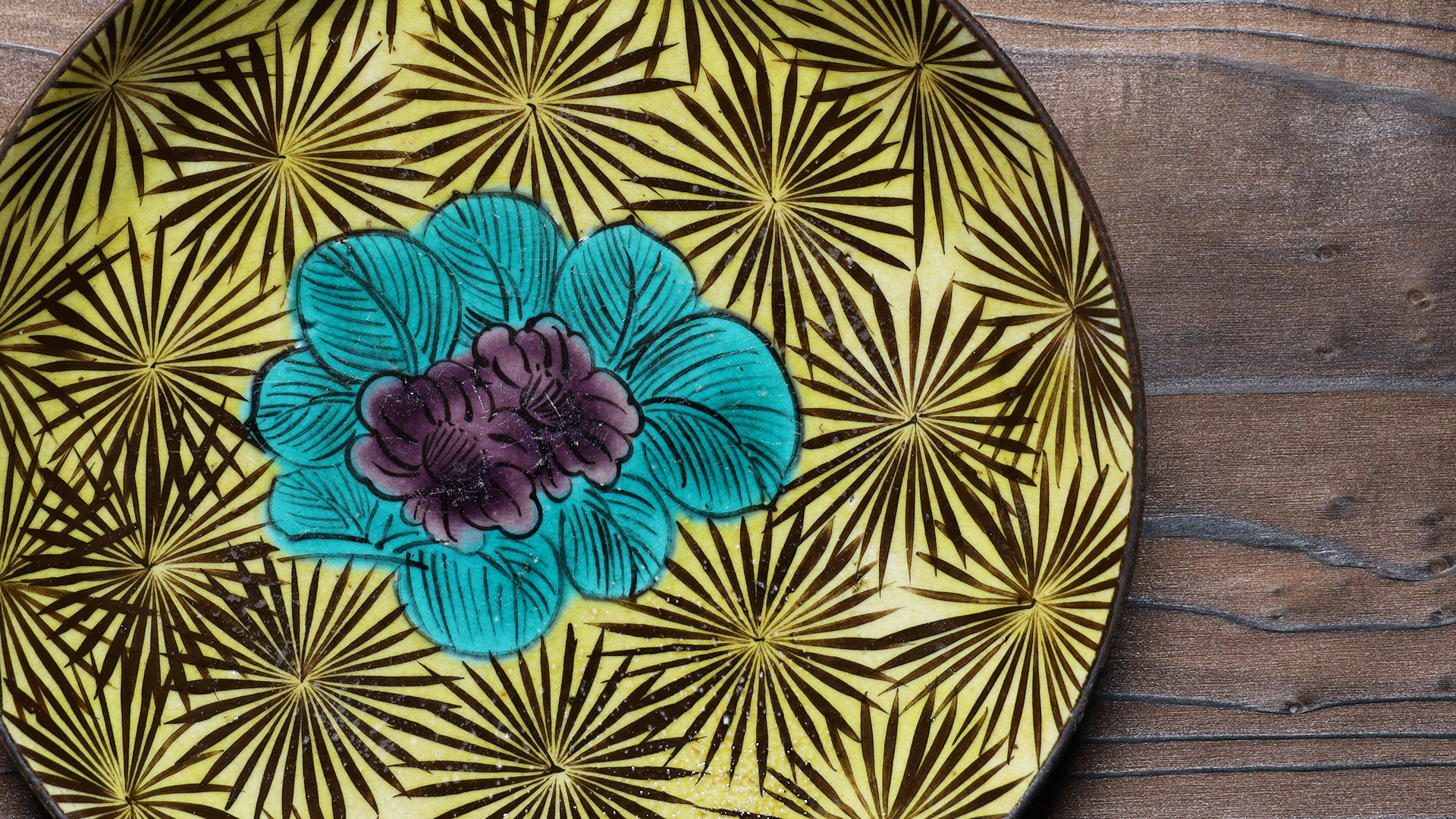 Aode-Kutani Dish with Design of Camellia(Edo Period)
2,000,000Yen(Tax Included)
This is the masterpiece of aode-kutani that captivates with its bewitching colors. It is a collection of techniques that represent a milestone in this period, and is both thick and delicate at the same time. Rosanjin Kitaoji highly praised old-kutani as an art, and its majestic and dignified appearance gives it a special atmosphere that sublimates the space.
Period

Edo Period
Middle 17th century
Weight

426g
Diameter

19.8cm
Height

2.9cm
Bottom Diameter

11.3cm
Description

Paulonia Box
Condition

Excellent Condition

It meets the requirements of the first class work with its beautiful glaze, good baking and excellent condition.
---
After japan's first porcelain "Early-Imari" was created in 1616, in the 1640s and 1650s, color painting techniques were introduced to imari ware, mainly blue and white porcelain. Works painted entirely with colored glaze in this way are called "Aode-Kutani", and have a dignified quality that can be said to be a symbol of old-kutani. The main theme, the camellia design, is an integral part of the tea ceremony as a winter flower, and is known as an auspicious design of longevity.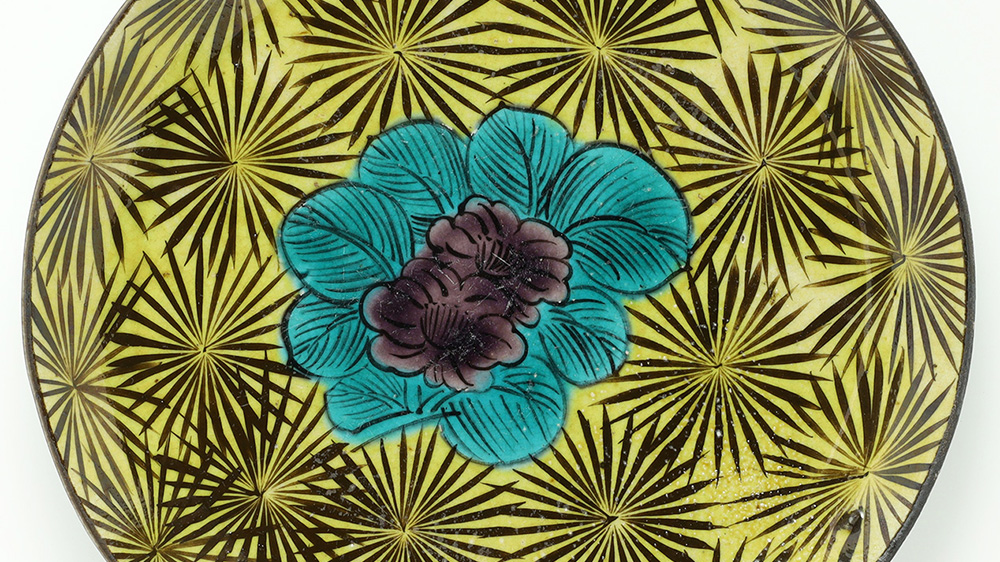 The slightly thick shape is very neat. This work uses no red at all, and the contrast between yellow and green is captivating.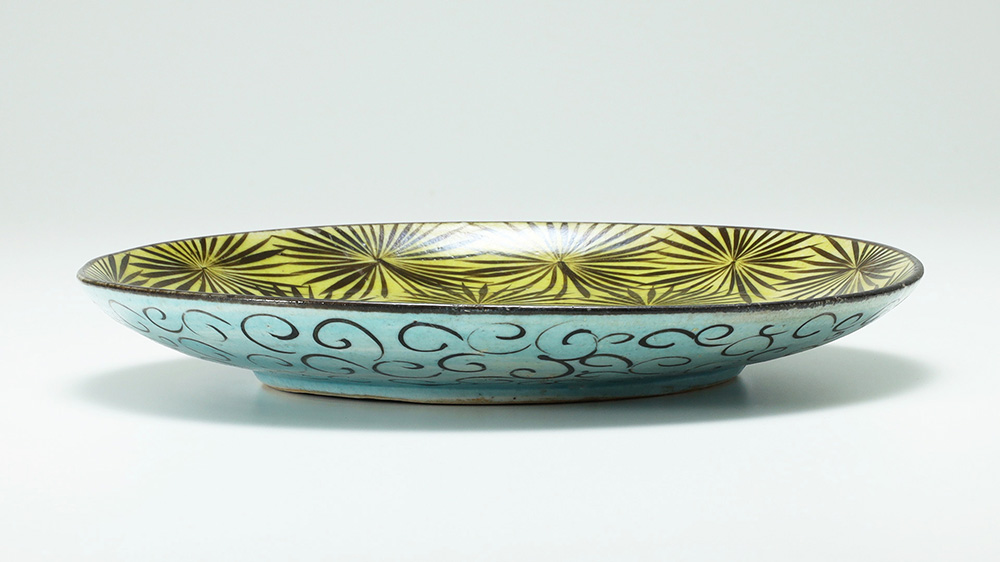 The background of the camellia design is a glossy yellow glaze with a floral design. Examples of works with an inverted green glaze instead of yellow glaze have also been confirmed. The surrounding iron glaze tightens the surface of the vessel.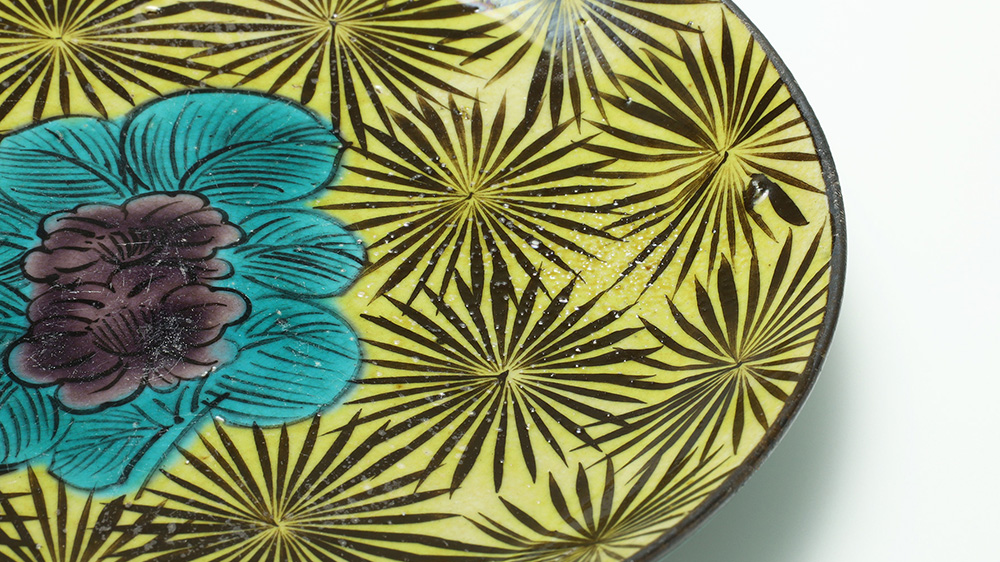 Compared to the early-imari, the bottom width is wider. There is a black arabesque design on the back side.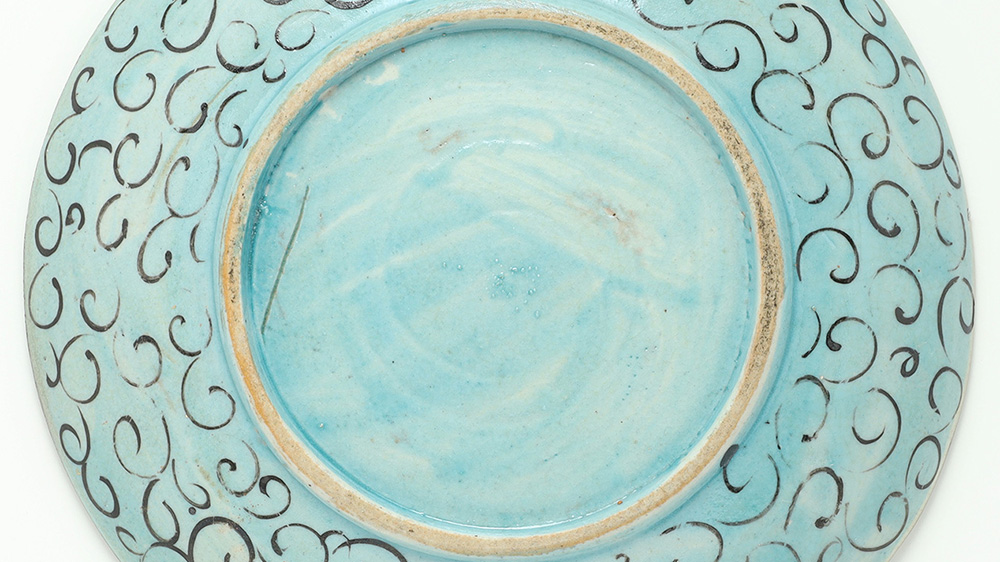 This is the highest quality wooden box(happo inro box)that we offer.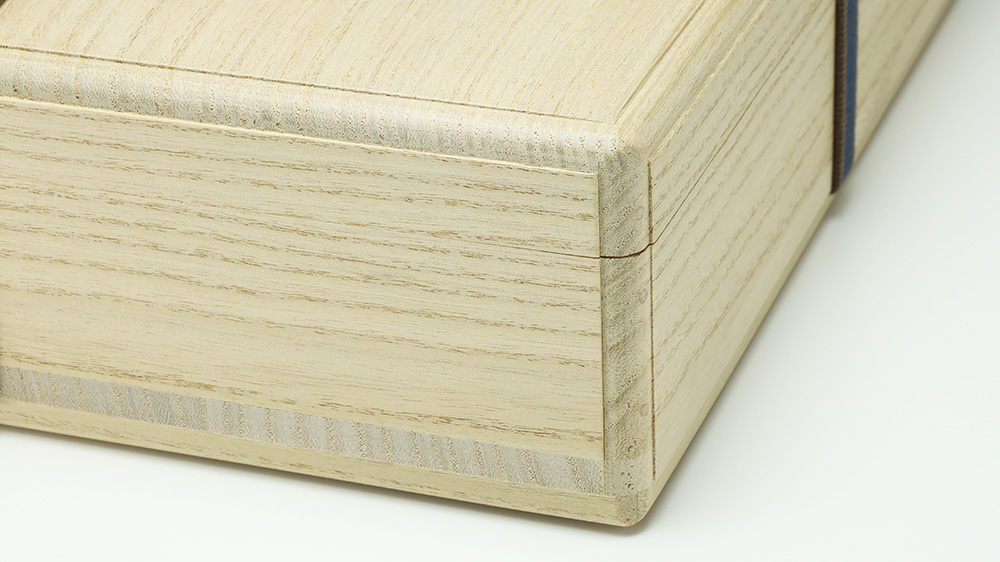 The interior is finished by a specialized upholsterer. It gives the box a neat appearance and makes it easier to place your work inside it.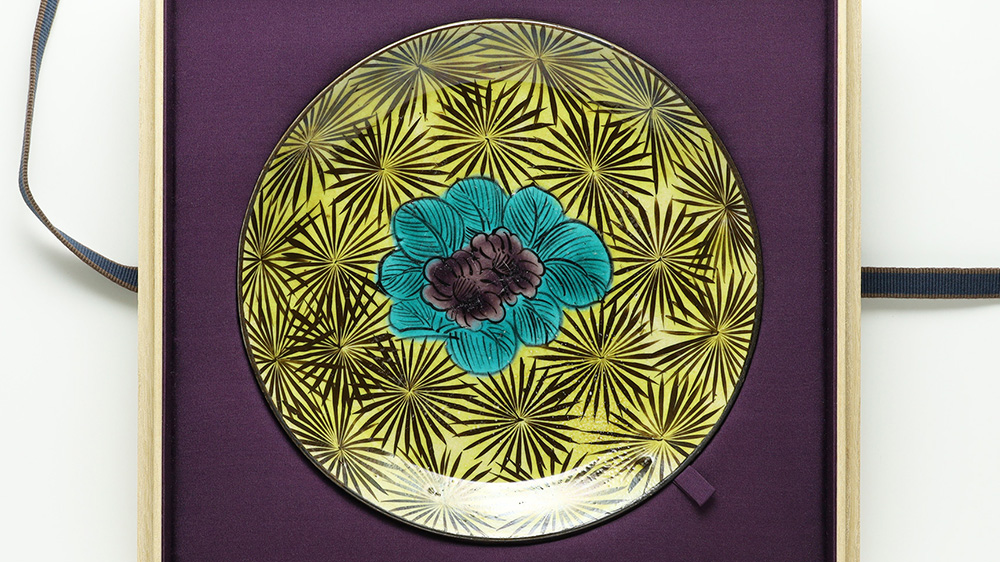 ---
Old-Kutani
Old-kutani is a style of imari ware developed in arita, hizen(current saga prefecture), in the early edo period. In the 1640s and 50s, the overglaze enamels technique was introduced to imari ware, which before then was primarily blue and white pottery. Thanks to this dramatic change in technique, early-imari was developed into "Old-Kutani". Overglaze enamels porcelain, which was originally created by imitating chinese ceramics, developed independently in japan, and in addition to the bright dishes designed for dinner parties, there were also a lot of works created for tea ceremonies and kaiseki. Some pieces were made with noticeably higher quality color painting technique, and it is thought that artists of painting may have contributed to making these pieces. The number of works with inscribed name grew dramatically, and a wide variety of inscribed names were used, such as "Kakufuku" or "Homare". Since the dishes being made had become wider, in order to prevent the middle of the dishes from sagging during firing, a technique was developed that involved adding cone shaped supports made out of the same material as porcelain called "Hari". Early-imari dishes had smaller bases, so there are very few pieces that show signs of the use of these "Hari," other than large dishes. Iroe(overglaze enamels)old-kutani have a magnificent, powerful character, and due to their unique design style and thick, oil paint like coloring, for a long time it was commonly believed that they were produced in kaga(current ishikawa prefecture)- this is known as the kaga theory – but after several pieces of overglaze enamel pottery in the old-kutani style were found in the remains of old kilns in arita, the hizen theory, which claims that they were fired in arita, hizen(saga prefecture), became more prevalent, and this is the mainstream view today. Thanks to the strenuous efforts of hizen potters in the middle 17th century, these beautiful vessels still exist today, and rival jingdezhen porcelain, which is said to be the highest quality porcelain in the world.
---
Aode-Kutani
Aode is one of old-kutani style overglaze enamels porcelains. This technique of applying glaze at a low firing temperature is speculated to have been influenced by potteries such as cochin ware, underglaze yellow and overglaze green(jingdezhen kiln), which reached their peak in china during the ming and early qing dynasties. The base is mostly single fire glazing without bisque firing. Their qualities vary considerably, from pottery with high quality white porcelain bases, to those with both porcelain and ceramic elements, to those with inferior ceramic bases. The yanbeta and maruo kilns are considered the leading production areas.
---
The Maeda Clan and Old-Kutani
It is easy to work out that the production of styles like iroe old-kutani and aode-kutani, which used a lot of expensive overglaze enamel pigments, was an order of magnitude more costly than blue and white pottery. It was therefore mainly sold to daimyo(japanese feudal lord)clans like the maeda clan of kaga domain, and rich merchants in the kansai region. The maeda clan in particular is known for their fondness for chinese ceramics(Kosometsuke, Shonzui, Nanjing-Akae, etc.). Due to the civil disorder caused by the transition from the ming to qing dynasty in the 1640s, exports of jingdezhen porcelain had to be halted, and soon many japanese people were calling for domestically produced high quality overglaze enamel pottery to replace it. Many high quality old-kutani pieces, mainly gosaide, have been discovered at the remains of the maeda clan's estate(located within the grounds of tokyo university), it has also been pointed out that the nabeshima clan and the maeda clan had a deep relationship with each other. We now know that many old-kutani dishes over 40cm wide(which is quite rare in japan)were created because the japanese aristocracy liked to have large dishes to pile fish and poultry meat onto at their banquets. Since it was one of the status symbols, there are almost no similar works in old-kutani large dish.
---
Camellia
Since the camellia is an evergreen tree, it symbolizes longevity. It is said to be a sacred tree that is native to japan and has magical powers since ancient times, and the canes and mallets made from camellia, as well as the ashes and smoke created by burning the branches and leaves, were believed to have the power to ward off misfortune and evil spirits. In the tea ceremony, it was an inseparable winter flower, and in daily life it was also used as an oil, cosmetics, and medicine. The red and white colors are suitable for celebratory occasions, and are also popular as kimono design that exude elegance and glamor.