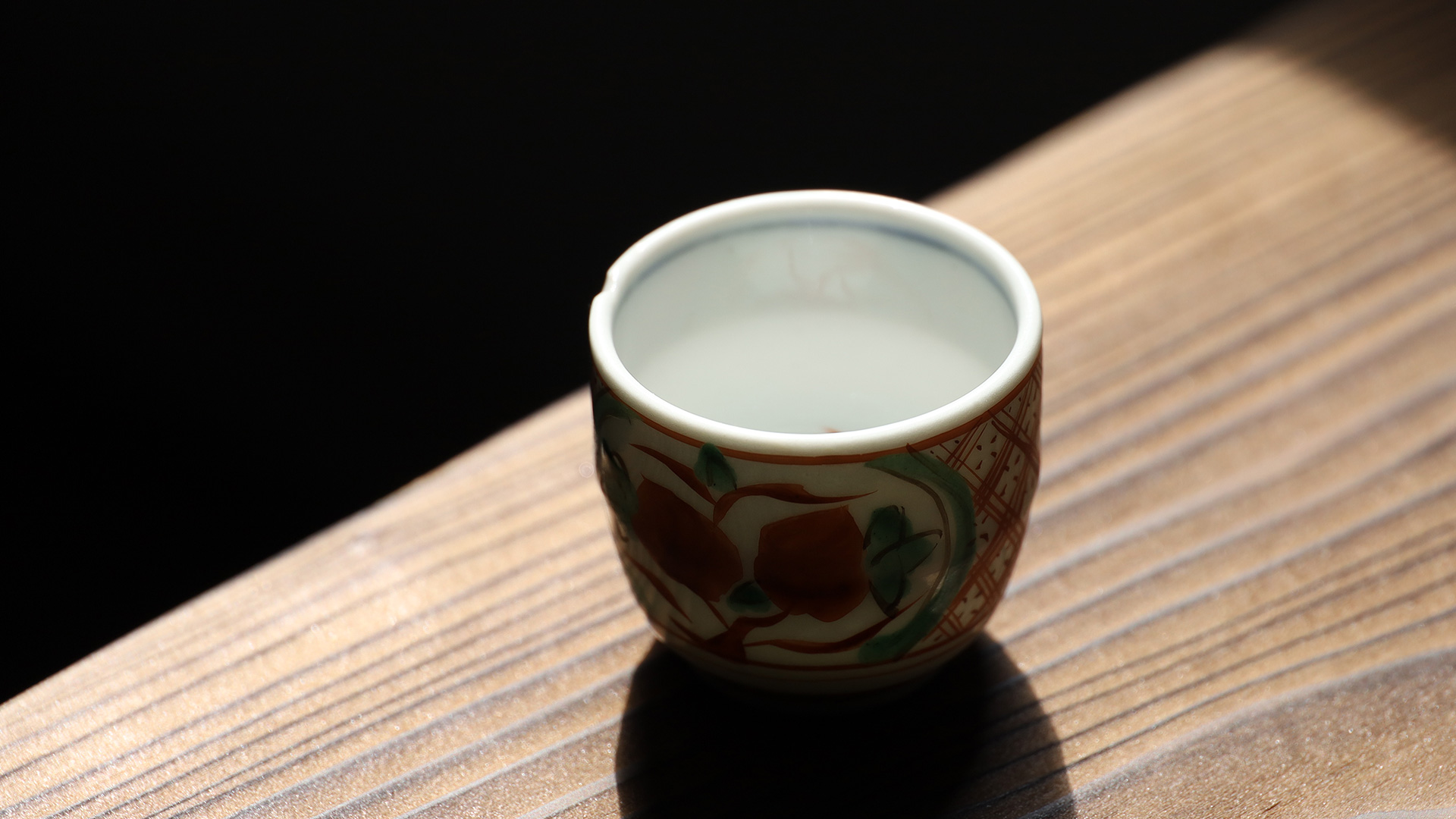 Aka-Gosu Sake Cup with Design of Flowers(Rosanjin Kitaoji)
300,000Yen(Tax Included)
Rosanjin kitaoji's aka-gosu sake cup has a high quality and solitary presence. When rosanjin was three years old, he was carried on his back by his sister-in-law, and saw bright red azaleas blooming on jingujiyama. This experience touched rosanjin's heartstrings, and made "Red" the special color, I think that the spirit is reflected in aka-gosu and red-shino.
Artist

Rosanjin Kitaoji
1883-1959
Weight

38g
Diameter

4.5cm
Height

4.0cm
Bottom Diameter

2.8cm
Description

2th Kuroda Totoan Appraisal Box
Condition

Excellent Condition

It is in good condition without a feeling of use.
Rosanjin Kitaoji 1883-1959
---
Childhood
Rosanjin Kitaoji was born in kyoto as the second son of Kiyoaya Kitaoji. Real name is Fusajiro, alias Kaisa, Rokei, Rosanjin and Mukyo. At the same time as birth, grew up in an adversity that changed his family.
In 1889, adopted by wood engraver Takezo Fukuda.
In 1893, after graduating from Umeya Jinjyo Primary School, went to apprentice apprenticeship at the chinese medicine store "Chisaka Wayakuya" in nijo karasuma.
In 1895, impressed with Seiho Takeuchi's japanese painting at the 4th National Industrial Exhibition, wanted to be a japanese painter.
In 1896, quit his apprenticeship and asked his adoptive father to go to the Kyoto Prefectural School of Painting, but it was not granted, and helped the family business with woodblock printing.
In 1897, wanted to be a calligrapher.
---
Calligraphy Talent Blooms
In 1899, the western signboards make a lot of income and are called "Teacher" in the neighborhood.
In 1904, Received the first and second prize at the Japanese Art Exhibition. The award winning work was bought by minister of the imperial household Mitsuaki Tanaka.
In 1905, studied under calligrapher Katei Okamoto. Written by Teikoku Life Insurance Company as "Kaitsu Fukuda".
In 1907, independent of Katei, the sign of professor calligraphy was raised as "Outei Fukuda".
In 1908, married Tami Yasumi. Get acquainted with Rihachi Fujii and know his daughter Seki.
In 1910, went to korea with mother Tome.
In 1911, Became the secretary of the Korean Printing Bureau.
In 1912, met with Goshoseki in Shanghai.
In 1913, named "Taikan", which means "Overlooking the World". While holding the calligraphy classroom, gained the reputation through writing and seal engraving. Met Seiho Takeuchi and was asked to produce the seal.
In 1914, divorced with Tami.
In 1915, "Kitaoji" has been restored to the last name. Become the house guest of Entai Hosono in Kanazawa, try to underglaze blue and overglaze polychrome enamel under Seika Suda through Entai.
In 1916, married Seki Fujii. Named "Taikan Kitaoji" and "Rokei Kitaoji".
---
"Taigado Art Store" and "Bishoku Club"
In 1917, met Takeshiro Nakamura.
In 1919, established "Taigado Art Store" with Takeshiro Nakamura in tokyo kyobashi. Moved to the rental house in north kamakura. From around this time, started using the alias "Rosanjin".
In 1920, renamed as "Taigado Art Store". The dish will be served the old ceramics at the taigado art Store.
In 1921, membership system "Bishoku Club" was established on the second floor of taigado art store. Moved to north kamakura.
In 1922, began producing tableware for bishoku club at the Seika Suda kiln and Tozan Miyanaga kiln. Officially inherited the family and named "Rosanjin".
In 1923, taigado art store and bishoku club were destroyed by the great kanto earthquake. The bishoku club will be reopened at the "Hana no Chaya" in shiba park.
---
Opened a membership based luxury restaurant "Hoshigaoka Saryo"
In 1924, produced more than 5,000 pieces of celadon and tableware for 100 people at the Tozan Miyanaga kiln, and met Toyozo Arakawa, who was the factory manager at the same kiln. The renovation work has begun by borrowing the "Hoshigaoka Saryo" located in the precincts of the hie shrine in tokyo. Came up with the sale of chinese stationery to raise funds for opening the hoshigaoka saryo, visit Goshouseki in shanghai. Made a big profit by selling after returning home.
In 1925, Opened a membership based luxury restaurant "Hoshigaoka Saryo". Takeshiro Nakamura is the president and Rosanjin is the advisor and chef, gained a reputation for entertainment and tableware. Will increase members as the social place. Met Fujio Koyama at the Zoroku Mashimizu kiln.